Investors are also pulling back.
According to the National Association of Realtors in its report. Compared to the October 2020 peak, sales are down 30%.
Beyond the two months of confinement of April and May 2020, this is the lowest sales rate since March 2014, and since the summer of 2012, indicating how frozen the housing market is. Potential buyers even refused to look at the prices asked by sellers. Sellers have refused to cut their ambitious prices where buyers might be – although there are far more price cuts now than a year ago. And other would-be sellers waited for a Fed pivot that would cause mortgage rates to drop and prices to rise before putting their homes on the market – although the reverse is happening now (historical data via YCharts):
These are sales across the United States that closed in September, based on deals made earlier. They therefore almost entirely preceded Hurricane Ian, which made landfall in Florida on September 28.
Compared to a year ago, the seasonally adjusted annual rate of sales fell 23.8%, the fourteenth consecutive month of year-over-year declines (historical data via Y-Charts):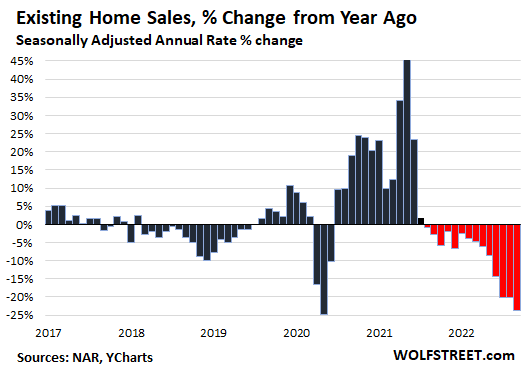 Sales of single-family homes fell 0.9% in September from August, and 23% year-over-year, to a seasonally adjusted annual rate of 4.22 million homes.
Sales of condos and cooperatives fell 5.8% in September from August, to 490,000 at a seasonally adjusted annual rate, down 30% year-on-year.
Sales by region: Year over year (yoy), sales fell in all regions. Month over month (mom), only the West saw no decline in sales from the desperately low levels of August:
Northeast: -1.6% mom; -18.7% YoY.
Midwest: -1.7% mom; -19.7% YoY.
South: -1.9% mom; -23.8% YoY.
West: 0% mom; -31.3% YoY.
The median price of all types of homes whose sales closed in September fell for the third consecutive month and are now down 7% from the peak in June.
In terms of seasonality, the 7% drop was the largest for this period since the end of the housing crisis 1, and more than double the 3.2% drop during this period in 2021. The average drop during this period over the previous 10 years was 4.2%. In 2020, prices jumped during this period. In 2019, prices fell 4.9% over this period. And in 2018, prices fell 6.2% over that period, but the housing market weakened as mortgage rates headed towards 5% amid QTs, rate hikes and stocks in a swoon.
This monthly price drop reduced the year-over-year price increase to 8.4%, down from increases of 20% to 25% during last year's peak frenzy (data charts via YCharts):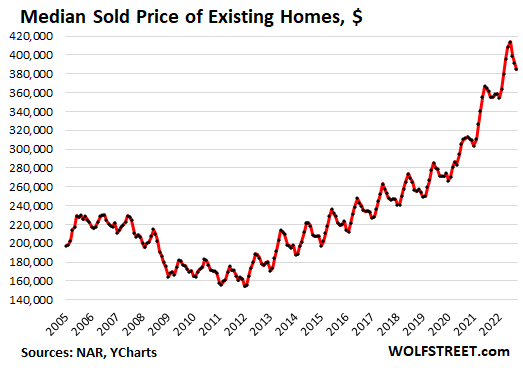 Active announcements – ie total inventory for sale minus properties awaiting sale – rose to 732,000 homes in September, the highest since October 2020, up 27% year-on-year for the third consecutive month, according to data from real estate agent.com.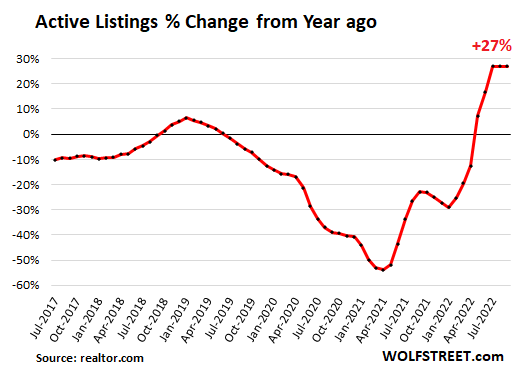 Compared to pre-pandemic years, active listings remain low, a sign that the housing market is somewhat frozen, with sellers not interested in selling at prices where buyers might be; and the buyers are not interested in buying at the prices where the sellers are, and so there is this deadlock that manifests itself in the drop in sales.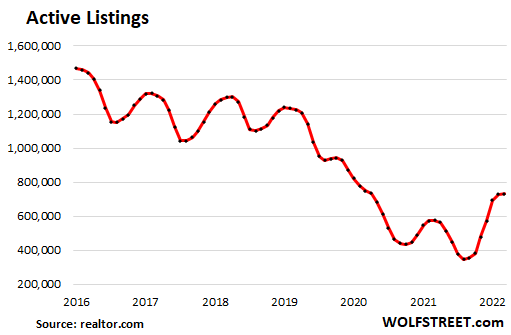 Price reductions have risen from all-time lows, a sign that some sellers are backing away from their stretch prices and slashing prices where buyers might be.
The number of price cuts jumped 75% year-over-year from pandemic lows and returned to the range it was in before the pandemic: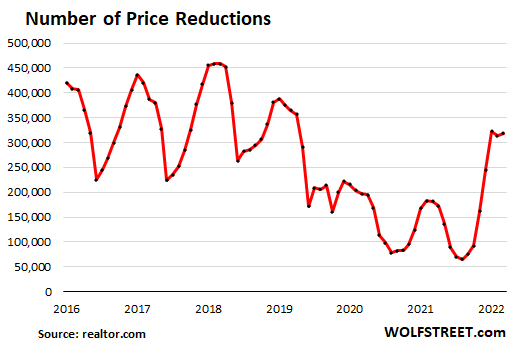 Investors or buyers of second homes bought 15% of homes in September, compared to 16% in August and 17% to 22% in spring and winter, according to NAR data.
All-cash buyerswhich include many investors and second home buyers, fell to a 22% share of total sales, from 24% in August and a 25% to 26% share earlier this year.
This decreasing share of sales to investors, in a context of plummeting overall sales, shows that investors are losing interest in this market at these prices.
Holy-moly mortgage rates. After the Fed's pivot fell fantastically from 6% in mid-June to 5% in mid-August, mortgage rates are now hovering around 7%.
The daily measure of the average 30-year fixed mortgage rate jumped to 7.37% today, according to Mortgage News Daily.
Freddie Mac's weekly measure of the average 30-year fixed mortgage rate, released today, based on mortgage rates from the start of this week, rose to 6.94%, more than double the rate from a year ago. a year.
But a mortgage rate of 7%, huge as it may be when applied to today's crazy house prices, is still low, given that CPI inflation is above 8% . But it catches up: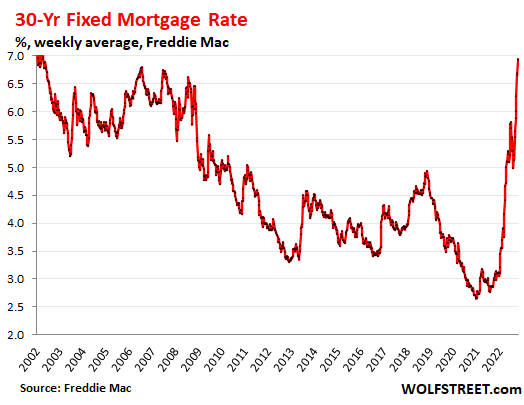 Do you like to read WOLF STREET and want to support it? You can donate. I greatly appreciate it. Click on the mug of beer and iced tea to find out how:

Would you like to be notified by e-mail when WOLF STREET publishes a new article? Register here.