According to the last National Housing Report RE/MAX. But motivated buyers overcame those challenges to make 2021 the busiest year for home sales in the study's 14-year history.
Despite a competitive real estate market, 2021 has been a "fantastic year for home sales," according to Nick Bailey, president and CEO of RE/MAX. The calendar year ended with nearly 10% more home sales than the previous record year of 2020.
"Buyers shrugged off all sorts of potential hurdles — high prices, record inventory, fierce competition for available listings — and kept things going all year long," Bailey said.
"The past two years have proven that buyers are here and ready to go."

– Nick Bailey, President and CEO of RE/MAX
December ended with the lowest number of homes for sale in annual report history. Without an extremely low housing supply, home sales could have been even stronger in 2021 thanks to strong buyer demand.
Keep reading to learn more about housing market trends in 2021, as well as housing forecasts for 2022. If you're considering buying a home, visit Credible to begin the mortgage pre-approval process.
HOW TO CHOOSE A REAL ESTATE AGENT
2021 was the busiest year for home buying in the report's history
Home sales have increased 10% between 2020 and 2021, according to the RE/MAX report, which shows a record trend that defies the many obstacles facing potential buyers. Although home sales were stronger than ever, the 2021 housing market presented several challenges:
Housing supply has reached historic lows. Housing inventory fell 33.3% year over year, with only 1.2 months of housing supply available on the market in December. The month ended with the lowest number of homes for sale in the report's history.
Houses fly off the market. Homes spent an average of 31 days on the market in December 2021, compared to 38 days a year ago. Nashville, Tenn. has the fastest housing market, where the average home only spends 13 days on the market.
Home sales prices have increased significantly. The median sale price was $335,000 in December 2021, up 11.5% from a year ago. No metro area included in the study experienced year-over-year sales price declines, while many cities saw double-digit price increases.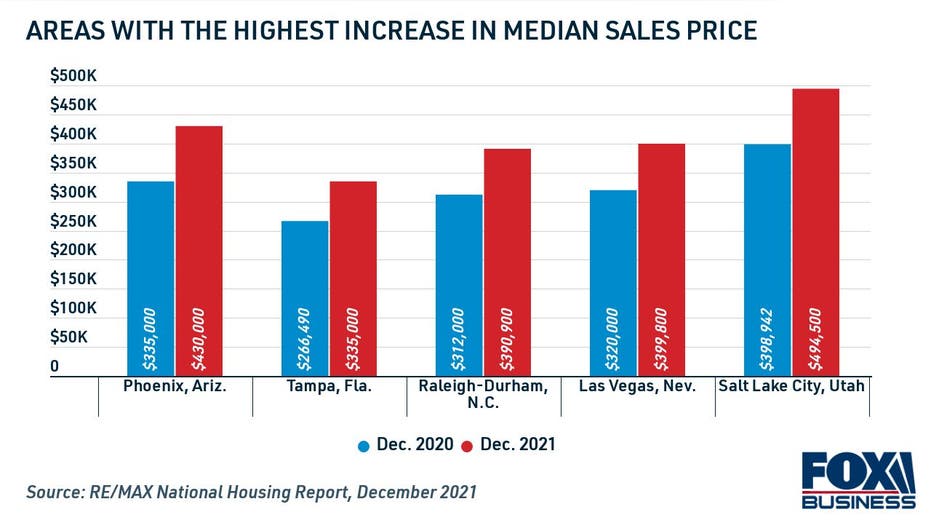 Strong buyer demand last year was partly attributable to historically low mortgage rates. The average 30-year mortgage rate hit a record low of 2.65% in January 2021, according to Freddie Mac's Primary Mortgage Market Survey (PMS).
Although mortgage interest rates are higher than they were this time last year, they are expected to rise further as the Federal Reserve implements several rate hikes throughout 2022. Buyers Potentials can consider locking in a lower mortgage rate now on Credible before the Fed raises rates. .
LOAN APPLICATIONS DROP TO PRE-PANDEMIC LEVELS
Home sales are expected to be strong in 2022
Steady demand from home buyers led to record home sales in 2021, and RE/MAX expects this trend to continue in 2022.
"What's promising for 2022 is that many of the factors that drove record sales in 2021 remain in place," Bailey said. "Interest rates are still attractive, workplace flexibility continues, and many owners are sitting on a mountain of equity. If more of them become sellers, there's good reason to think the hot streak will continue."
Another factor that will drive home sales in 2022 will be an increase in inventory. Homebuilders may finally be able to catch up with wood supply and labor shortages that have been exacerbated by the coronavirus pandemic, resulting in more single-family homes including buyers will be able to choose.
While the increase in housing supply should ease some of the competition buyers have been facing, rising mortgage interest rates could make buying a home more expensive. The Mortgage Bankers Association (MBA) expects 30-year mortgage rates to average 4.0% in 2022, from 3.1% in 2021. This could cause some buyers to accelerate their purchase plans in 2022 while they can still lock in a relatively low rate.
You can browse current mortgage rates from multiple lenders in the chart below and visit Credible to see your estimated rate for free without affecting your credit score.
NAHB CEO WARNS SUPPLY CHAIN ​​NEEDS TO BE FIXED 'QUICKLY'
Do you have a financial question, but you don't know who to contact? Email the Credible Money Expert at [email protected] and your question might be answered by Credible in our Money Expert column.